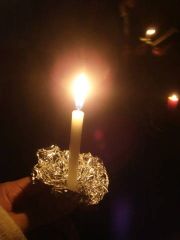 We had our first Christmas Eve Serivice on 24th.
Christmas lights were so pretty and warm, and we gathered and sang Christmas hyms, remebering Jesus, and Amazing Grace He has brought to us.
After turning all the lights in the room, we lighted candels one by one.. and we heard about His love, and what we had given. It was so intimate, deep and warm time to refrect the Light.
After the service was a party!! we had cakes and pies lined up on the counter and totally enjoyed cake buffet! :) Check out "Photos" for more pics!