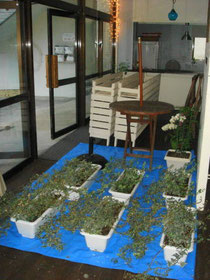 a large tyhoon (#4) is going to hit Okinawa tonight (18th Monday). We have to bring everything, which is planters, garden table & chairs, signs.... outside to inside of our church building. 

Praying that she passes us pretty quick, without leaving any damages..

It has been really muggy and hot here in Okinawa as this thyhoon approaching, looking forward to see the cleared sky after she passes!