pastoral team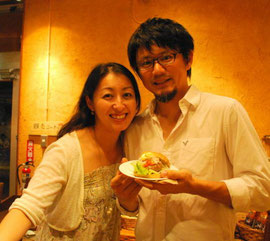 Sasagu Yoda (pastor,team leader)
I am blessed with my beautiful and wise wife! I am a deep thinker, carpenter, surfer and skateboarder. I love to go out and meet people and listen to thier story but my wife says I don't listen to hers...oooppps!
A great lesson that I am learning right now is" if I can only achieve my personal relationship with God on my own, I don't need others." In another words, we don't get completed unless we become a part of the Body. We could be totally unique and still be connected to the Body becuase every part is very different from each other. 
・DTS@YWAM Perth
・FIRE international missionary
・Regent University school of Biblical and theologal study
Find me on Facebook: sasagu yoda
Junko Yoda (pastor)
My life motto is "no regret". I want to enjoy and appriciate every moment of my life, people I meet, places I go, every season, nature and creation God made so beautifully!  I am very optimistic, and layback :)
Since we moved back to Okinawa in the end of 2010, my new adventure has started: exploraring this mysterious and attractive island of Okinawa and its people! My husband laughs at me because of my curiosity and all kind of  questions I ask... i want to know everything!
my favorite thing: vintage & antique furnitures, coffee, sky, especially at the time of sunset, traveling (esp. mission trips!!), hydrangea, my living room, cooking, arts & crafts, and finding treasures in people.
Brownsville Revival School of Ministry (BRSM)
Fire International Missionary 2003~
Find me on Facebook: junko. N. yoda